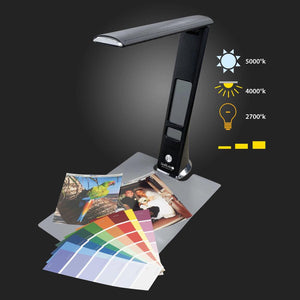 Fine Art Papers
Graflite-2 Daylight Viewing Lamp.
Regular price
€90.00
€0.00
Unit price
per
Tax included.
Shipping
calculated at checkout.
The all-new Graflite 2 viewing lamp is perfect for making critical density and colour evaluation of prints and helps to accurately reference them against calibrated hi-end monitors. It replaces the previous Graflite lamp.

The Graflite-2 has three colour settings with a dimmer function, Natural Daylight 5,000°k, Shop Lighting 4,000°k and Domestic Home Light 2,700°k. For normal print evaluation, we recommend the Natural Daylight 5,000°k setting. The often overlooked but equally as important CRI value (Colour Rendering Index), is also extremely high at 95+. This is a measure as to how accurately the lamp shows all the light wavelengths and does not cause a colour cast on the print. Bulbs with a high CRI (90+) are used very heavily in the automotive industry with regards to spray booths etc, and are interdependent on the daylight setting, so long as they show accurate colour to a reference target or swatch. By having a high CRI and a daylight light you have the best of both worlds.
The daylight lamp comes with an A4 grey viewing matte and a useful built-in USB port.
N.B. Products are currently only available to the Island of Ireland.
---